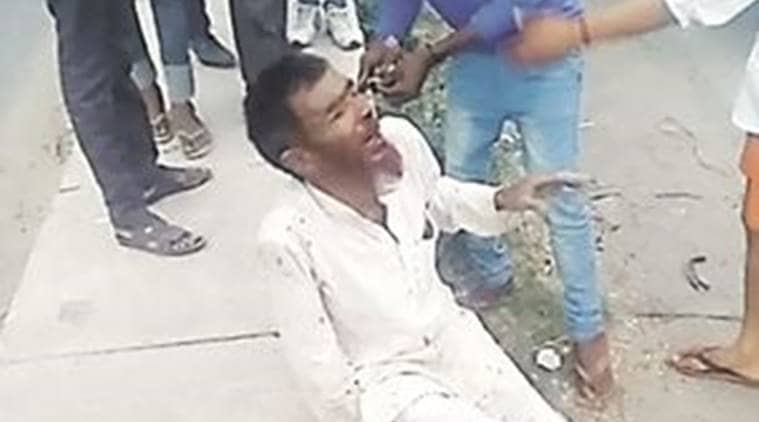 Video grab shows the attack on dairy farmer Pehlu Khan in Alwar district on April 1. He died of injuries later. (File photo)
Mohammad Hamza Khan |IE |Jaipur | April 9, 2017: AMONG those arrested and named in the Alwar gau rakshak case in which Pehlu Khan was killed are students, a college physical training instructor, a popular accounts teacher, a gaushala caretaker, a local strongman, and a nurse at the same hospital where the victims were hospitalised.
Khan named Hukum Chand, Navin Sharma, Jagmal Yadav, Om Prakash, Sudheer and Rahul Saini among those who had attacked him. While they are still on the run, police have so far arrested Vipin Yadav, 19, Ravindra Yadav, 30, Kalu Ram Yadav, 44, Dayanand, 40, and Neeraj, 19. Dayanand and Neeraj, who police said was the most violent of the assaulters, were arrested on Saturday.
They are alleged to have been among the group of gau rakshaks who attacked vehicles transporting cows, including Khan's, in Alwar on April 1. Five people travelling in two vehicles were assaulted, leaving 55-year-old Khan dead. Four other vehicles were also attacked. "All the arrested have been identified in the video clippings," Alwar SP Rahul Prakash said.
Hukum Chand and Navin Sharma work in the private Rajeshwar College in Behror. The owner of the college, Raj Kumar Yadav, said, "For the past three years, Chand has been looking after school management and working as a Physical Training instructor. Sharma taught accounts. He has been with us for nearly five years and is the most popular accounts teacher in Behror."
Yadav said Sharma also taught in other schools apart from his college, and took tuitions at home.
Yadav added that several teachers of the college were affiliated to right-wing organisations "such as the Hindu Jagaran Manch and VHP", including Chand and Sharma. "But they carried out their activities only outside the college."
Jagmal Yadav, aged over 70 years, runs the Dehmi gaushala in Behror as its caretaker, after having retired from a government college in Haryana. He also runs 'Manav Jagriti Manch' that, among other things, rewards high school schools who perform well with funds raised from the public.
Jagmal wields considerable influence locally due to his gaushala and the Manch, whose ceremony to felicitate students was always attended by IAS officers.
"There is total chaos at the Dehmi gaushala. Guruji used to arrange fodder for the over 700 cattle here. But now nobody is coming forward to donate for gau mata. The cost of taking care of them is several thousands of rupees daily," said Vijay Yadav, a gaushala caretaker.
Vijay added that even Bajrang Dal members who helped the gaushala haven't turned up since the incident.
Devendra Yadav, the Behror president of the Bharat Vikas Parishad, an organisation that claims to "serve with sanskar", said Jagmal had been wrongly named. "The animals rescued from four vehicles were brought to the Dehmi gaushala and he was there, unloading them, when the attack on the two other vehicles took place." It was in the latter attack that Khan died.
"Hukum, Naveen and Jagmal are very passionate gau bhakts," said Prem Chand Sain, a leader of the Bharat Vikas Parishad.
The fourth accused and a local strongman, Om Prakash Yadav, owns several shops and land along the highway where Khan was attacked, as well as the Behror dealership of a prominent water purifier company. His wife Nidhi Yadav is a Behror Nagar Palika corporator.
The father of the fifth accused, Rahul Saini, told The Sunday Express he hadn't seen him since April 3. "Rahul had cleared M.Com but not get a job and helped me out at my tyre-repair shop. We are poor people. His mother Shakuntala is worried for him."
Not much is known about the sixth accused, Sudheer, except a social media post dating back to 2014 that has his personal number in a list of '24 hour cow helpline' in Behror.
Among those arrested, Vipin used to be a students' union president at Behror Government College, Ravindra worked at Kailash Hospital where Khan and the others injured were admitted, and Kalu Ram is a transport agent.
Harish Chandra, a lecturer at the Behror college, said Vipin was a BA first-year student. Another lecturer, Dr Vinay Singh Yadav, said Vipin was due to appear for the annual exams when he was arrested. "Student union elections at our college are not held on party symbols, but he was supported by the BJP. He was elected in August last year and the term of the union ended this February," said Chandra.
Kailash Hospital Director Shyam Sunder Sharma said they had no idea about Ravindra's "affiliation to the RSS". "He was working as a staff nurse with us for nearly a year. We came to know later he was at the spot (of the attacks)."
Dayanand and Neeraj are still being questioned by police. "We have identified about a dozen more and will soon announce a reward for them," SP Prakash said. "Rs 5,000 has already been announced for each of the six (named by Khan)."
"Investigations so far haven't revealed any previous police cases of any of the accused or the arrested," the SP said.