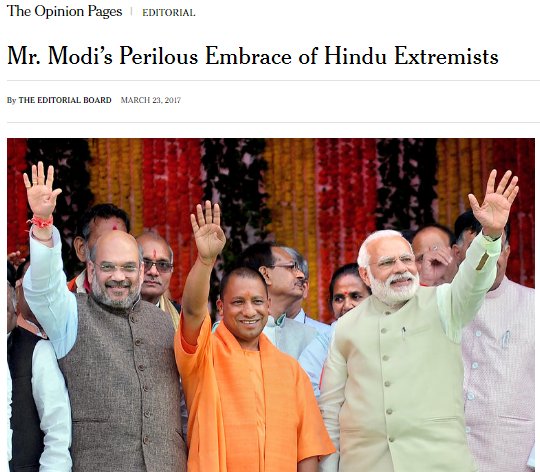 TT, New Delhi. March 24: US President Donald Trump has a new ally in his criticism of the American media: the Indian foreign office.
India today hit out at The New York Times over a leading article - which articulates a newspaper's opinion and is also known as the editorial - that questioned Prime Minister Narendra Modi's selection of Yogi Adityanath as Uttar Pradesh chief minister.
While questioning the newspaper, the foreign office added the words "home and abroad", which appeared an oblique reference to the daily's coverage of Trump, which has infuriated the President.
"Editorials and opinion pieces are all subjective by their very nature - but this particular one that you mentioned is particularly subjective," foreign ministry spokesperson Gopal Baglay said in response to a question at a media conference.
"And the wisdom of doubting the verdicts of genuine democratic exercises is quite questionable, both at home and abroad," the spokesperson added.
It is rare for the Indian foreign ministry to publicly criticise a publication like The New York Times, especially over a leading article that is expected to offer the newspaper's opinion as opposed to questioning the information in a news report.
It is rarer still for India to question foreign publications about their work in their country.
Officials indicated that the foreign office was under pressure to advise the international community to not presume any shift in Modi's priorities following the BJP's selection of the controversial Adityanath as chief minister of India's most populous state.
Today's comments served the dual purpose of aligning the government with Trump - whom India is aggressively wooing - over his approach to the news media, while criticising the editorial New Delhi did not like.
The New York Times comment said the Indian Prime Minister had played a "cagey" game since 2014, balancing the appeasement of his hard-line Hindutva supporters with his development rhetoric.
"On Sunday, Mr Modi revealed his hand (by appointing Adityanath)," it said. "The move is a shocking rebuke to religious minorities, and a sign that cold political calculations ahead of national elections in 2019 have led Mr Modi's Bharatiya Janata Party to believe that nothing stands in the way of realising its long-held dream of transforming a secular republic into a Hindu state."
The editorial contended that the appointment of the seer suggests "Mr Modi sees no contradiction between economic development and a muscular Hindu nationalism that feeds on stoking anti-Muslim passions", and that his policies had "delivered growth, but not jobs".
https://www.nytimes.com/2017/03/23/opinion/mr-modis-perilous-embrace-of-hindu-extremists.html?ref=opinion&_r=1